"Everybody in this world should learn how to code, because it teaches you how to think" -- Steve Jobs
* * * 2016: DiscoG - Summer Coding Boot Camp for Children aged 9 - 14 * * *
Summer Weekly Coding Classes (15 hrs)
Dates

Time

Location

25th July - 29th July 2016

(5 days)

9:30am - 12:30pm

Stanmore College

1st August - 5th August 2016

(5 days)

9:30am -

12:30pm

tbc

8th August - 12th August 2016

(5 days)

9:30am - 12:30pm

tbc

15th August - 19th August 2016

(5 days)

9:30am - 12:30pm

tbc

22nd August - 26th August 2016

(5 days)

9:30am - 12:30pm

tbc
Cost
£180 per week -- 15% discount for sibling.
Please contact Gerard for start dates, to book or for more information:
Phone: 07767300940 Email Address: coding@discog.co.uk
The Computer Revolution has just begun!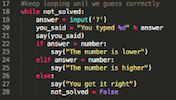 What is Programming?
Programming is the process of writing an ordered set of steps that are able to command a computer to solve a problem or do things!!
And why is it important?
We are living in a world dominated by technology, understand hardware and software is now as important as reading and writing; your child will benefit from the new skills to survive in the 21st Century.
We teach children to code!
The weekly coding programme takes children who are unfamiliar with, or have a limited knowledge of programming and teaches them the basics of coding, electronics and design in a fun environment.
Your child will learn:
* To use the latest Raspberry Pi, Pi Zero or the new Micro:Bit
* The Python Programming language. (Python is an excellent language for first-time programmers, Its simplicity allows
beginners to readily learn widely used concepts from more advanced languages)
* To build basic electronic circuits & integrate Raspberry Pi with them
* To write codes that will control the electronic circuits
* To use the Python Turtle to draw in the form of Digital Art
* Concepts such as Variables, Sequences & Algorithms, Loops and Conditional Expressions
* To work independently and within small groups
* And much more..
Technological developments change the way we view the world and how we integrate with it. Your child will learn 21st Century skills such as logical, analytical and computational thinking concepts rarely taught in schools.
The programme will introduce your child to the modern world through bite-size hands-on sessions where they will build electronic circuits from scratch and write codes to integrate with them.
Our step-by-step explanations will have each student learning computational concepts from the outset, while visual and game-oriented examples will hold their attention.
One-To-One Classes & tailored Sessions are also available, please get in touch to enquire!
Weekend and after School Coding Classes are also available!
Please contact Gerard for start dates, to book or for more information:
Phone: 07767300940 Email Address: coding@discog.co.uk